Good winter spot by the sea
Booking, payment, check-in, all arranged smoothly. The campsite is clean, everything works, friendly staff. Close to the beach, which is also very nice for cycling or hiking in winter.
Fine park, close to the sea, good place to be
Have now been for the fifth time. Fine cottages, clean and comfortable. Dog can come along and with a 10-minute walk you are on the beach.
Excellent
Stayed here for a long weekend during high season for the 4th time. Again, we were very pleased. Clean toilets, excellent sandwiches in the morning and very friendly staff. We will definitely book again for next year.
5 stars: perfect, definitely recommended
Lovely week. Very friendly staff, incredibly well served. A park where you are genuinely helped and not a number. Property was also very clean, really top notch! Wonderfully close to the beach and the big cities are nice and close. Highly recommended.
5 stars: perfect, definitely recommended
incredibly welcoming and friendly park staff. On the day of arrival, they came to ask if everything was to your liking and if it was not, they could fix it immediately. very good. Park has great beachfront location.
Great
Friendly and very helpful staff, nice location and clean and well-appointed bungalow. Beds slept very well. If I had to mention at all one point of improvement, a shelf in the shower to put shampoo etc would be nice. When a dishwasher malfunctioned and a shower drain problem occurred, the response was immediate. Super!
Bob
Gem right on the coast
What a super nice place. A gorgeous small-scale holiday park in stunning surroundings with a huge amount to do. In everything, you sense that you are taken seriously and that there is genuine attention. The staff are really super friendly. Our bungalow was super well-cleaned and we had great food at the restaurant. Otherwise, lots of fun things done: cycled, surfed, walked, went to town. We will definitely come back again. Keep up the good work!
Linsey
Helpful to all!
We stay with eight physically challenged youngsters at Vlugtenburg once a month. We love how Vlugtenburg's staff are always very friendly and welcoming to us and think creatively where necessary. The location is also great, within a 10-minute walk we are on the beach with the youngsters, just a nice breath of fresh air. In short, thank you very much! Thanks in part to Vlugtenburg's staff, our youngsters had a wonderful carefree weekend!!!
Esther
Ideal with children!
Delicious food at Eatery Salt! Lots of play opportunities for children inside and outside! Tasty chips with the dishes! 🙂 And even got another doggy bag with the delicious spare ribs. Highly recommended for the whole family or with the family!
Activities to get excited about
Sail along for a bit on one of the many Westland waters or go Blokarting or Powerkiting on the beach. Take a nice bike ride along the greenhouses or walk on the dikes or through the dunes. There is all this and much more to do in the beautiful Westland and surroundings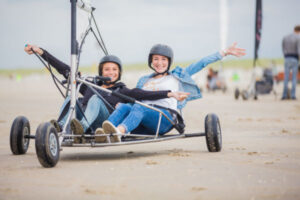 From 2024: water fun at Vlugtenburg
You read it right! From May 2024, you can enjoy a cooling water playground at Strandpark Vlugtenburg. You can check out the design via the button below, at least it promises to be one big play paradise!
Slides, water jets and an interactive mini-game: you can definitely expect that in our brand new water playground. Will you be the first to come and enjoy it?
You can experience this at Strandpark Vlugtenburg
More than a holiday by the sea
Ideal for a weekend, midweek or holiday at the beach in the Netherlands!