Takeaway Menu
At Beach Park Vlugtenburg we also have a takeaway menu! View it below or download it here
Start your day with a delicious breakfast!
It is also time for a holiday for mom and dad. But then again, who prepares breakfast in the morning? The kids? Probably not! That is why we offer you the ideal solution: we will prepare your breakfast! This way you can sleep in and then have a delicious breakfast.
You can order a complete breakfast for only € 6.95 and of course we will tidy everything up! (Breakfast in our restaurant is possible from 10 people or more).
Would you prefer to have breakfast in your own bungalow? When you check in at Strandpark Vlugtenburg you will receive an order list or you can order online trough our webshop. From this list you can choose which freshly baked rolls  or croissants you want to receive. They'll be delivered the next day around 9:00 AM at your doorstep. Return the completed list before 17:00 at the reception or at the Restaurant.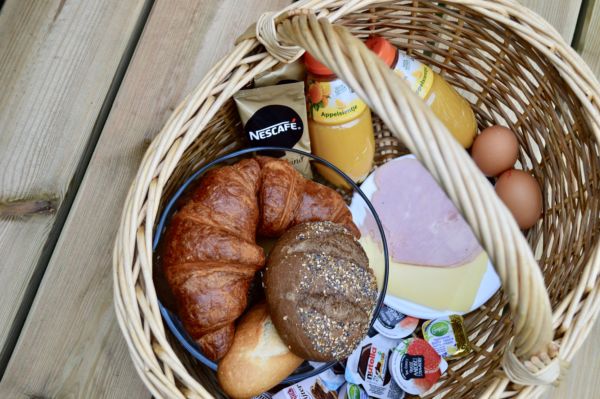 BBQ or Gourmet
You will receive a BBQ / Gourmet list when you check-in. If you want to use one of the two, order this always 24 hours in advance at the reception or our restaurant. You can choose from various options regarding meat or fish (bread and sauces are included). We deliver the BBQ or gourmet with all the goodies at the agreed time at your bungalow or camping spot.
Are you with a large group and do not want to do everything by yourself? Then come over to our restaurant and have a nice BBQ or gourmet in our Pavilion!
Not: the bbq and gourmet cannot be delivered at our Pipowagens on the beach!
Something to celebrate?
Is it your birthday, or are you getting married and you are looking for a place to celebrate? Then contact Paviljoen Hé Pannenkoek!
Pavilion Hé Pannenkoek is a cozy location, located on the dunes and near by the beach. Our Restaurant is the ideal location for your party; rain or shine.
If the weather is good, you can have a BBQ on our terrace. The service staff ensures that your guests do not have an empty glass. Of course we also provide a tasty snack!
When the ponchos have to appear, we take the guests inside where of our restaurant.
There are of course many more options for filling in your party. Contact us and we will be happy to discuss the options with you.
Playground
The new outdoor playground at Strandpark Vlugtenburg has been opened. It is not just a playground … But a real play paradise with a gi-gan-ti climbing tower. Guaranteed hours of entertainment for all children!
Outdoor Playground
It is a challenging and versatile playground with something for every child. Various climbing machines and panels ensure an unforgettable gaming adventure. Children from 2 to 14 years can play here to their heart's content, without and with limitations.
A big plus is that the playground is adjacent to the Hé Pannenkoek restaurant where the parents can relax on the terrace. And be honest, which parent does not want that ??!
Have a drink on the terrace
Nice with the feet up and slumped in the terrace cushions. Good location, comfortable seating areas and good company. Which crucial item is still missing…? Of course a snack and a drink ?! We have found the solution for this. We have created our new drinks menu, including all kinds of refreshing cocktails.
Infinite spreads
We have also added a very special extra service to the popular bread basket. Do you always find it so annoying? When the spreads are already empty and there is still a lot of bread left? When this is about to happen…. give us a notice and we will make sure the dips are refilled properly. Bread with endless spreads! Yummmy! 
Opening Hours
Unfortunately, the restaurant is not yet open due to the circumstances. We stand ready on Friday, Saturday and Sunday to provide take-away coffees with a small snack. Of course everything in accordance with the 1.5 meter distance rule. At the park, the bread service continues in the morning. We will keep you informed of any changes.
The bread service at the park is available throughout the year.
The restaurant is open daily from 10 a.m. to 8 p.m. during the summer months (during holidays and balmy summer evenings, closing time may be slightly later).
Strandpark Vlugtenburg
Book now at hé Pannenkoek!
Beachpark Vlugtenburg
More than a holiday at the sea
If you have any further questions please do not hesitate to contact us!